Status of Abandoned Oil and Gas Well Plugging Operations and Site Remediation Activities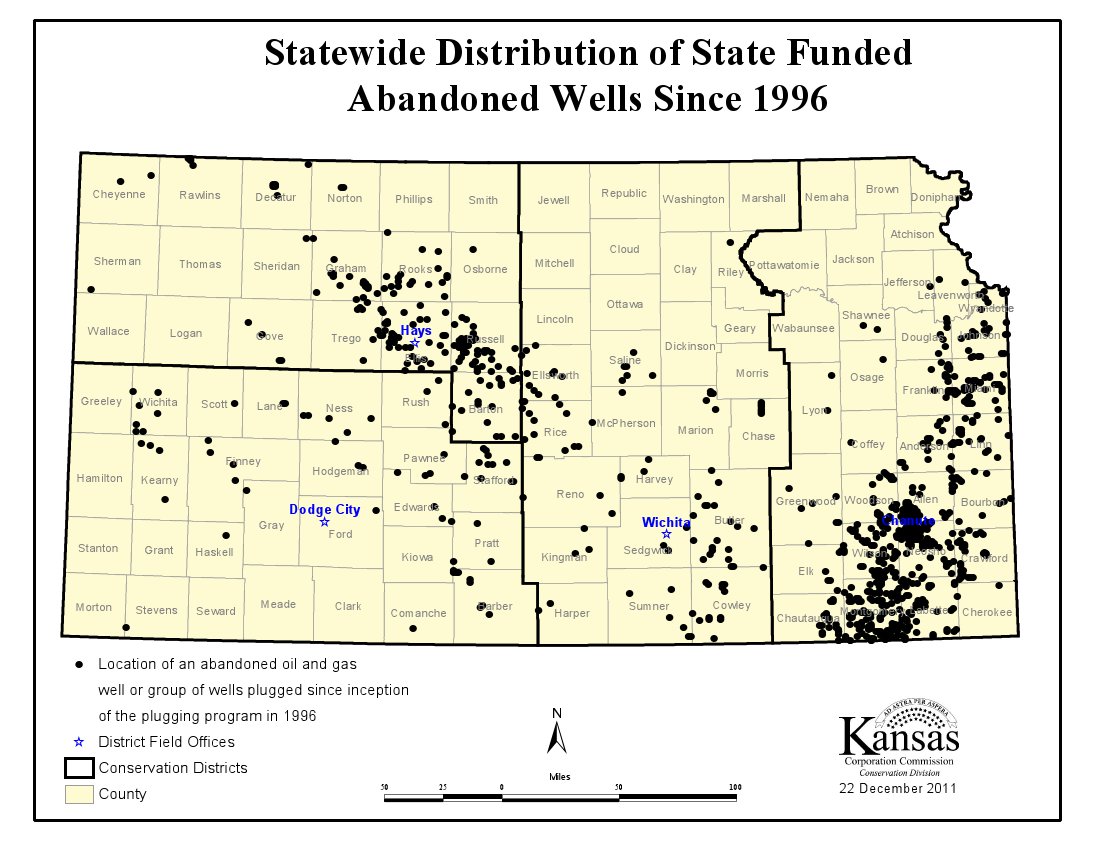 Abandoned Oil and Gas Well/Site Remediation Program
The Abandoned Oil and Gas Well/Site Remediation Fund was established in 1996 to address the problem of abandoned oil and gas wells and remediation sites related to oil and gas exploration and production activities. Monies from this fund can be used by the Conservation Division to plug abandoned oil and gas wells and remediate surface and groundwater contamination related to oil and gas activities.
Abandoned Oil and Gas Wells
To report the location of an abandoned oil or gas well, contact the appropriate KCC District Field office. Plugging of abandoned wells is on a priority basis. Wells having ongoing or potential for environmental damage or public safety considerations receive the highest priority.
District Field Offices are:
District 1 Dodge City, Kansas (Southwest Kansas) (620) 682-7933
District 2 Wichita, Kansas (South & North Central Kansas) (316) 337-7400
District 3 Chanute, Kansas (Eastern Kansas) (620) 902-6450
District 4 Hays, Kansas (Northwestern Kansas) (785) 261-6250
Plugging contractors wishing to bid on plugging contracts associated with this program should contact the appropriate District Field Office and the Kansas Department of Administration, Division of Purchasing at (785) 296-0002. Information on projects open for bid can also be accessed through the Division of Purchasing.
Remediation Sites
To obtain current information on active remediation sites covered under this program contact Rick Hestermann, Supervisor of the Environmental Protection and Remediation Section of the Conservation Division at (316) 337-6193, or at This email address is being protected from spambots. You need JavaScript enabled to view it..
Download a pdf version of the Statewide Distribution of State Funded Abandoned Wells since 1996 map.