Latest KidWind News


Congratulations to the 2023 Kansas KidWind State winners!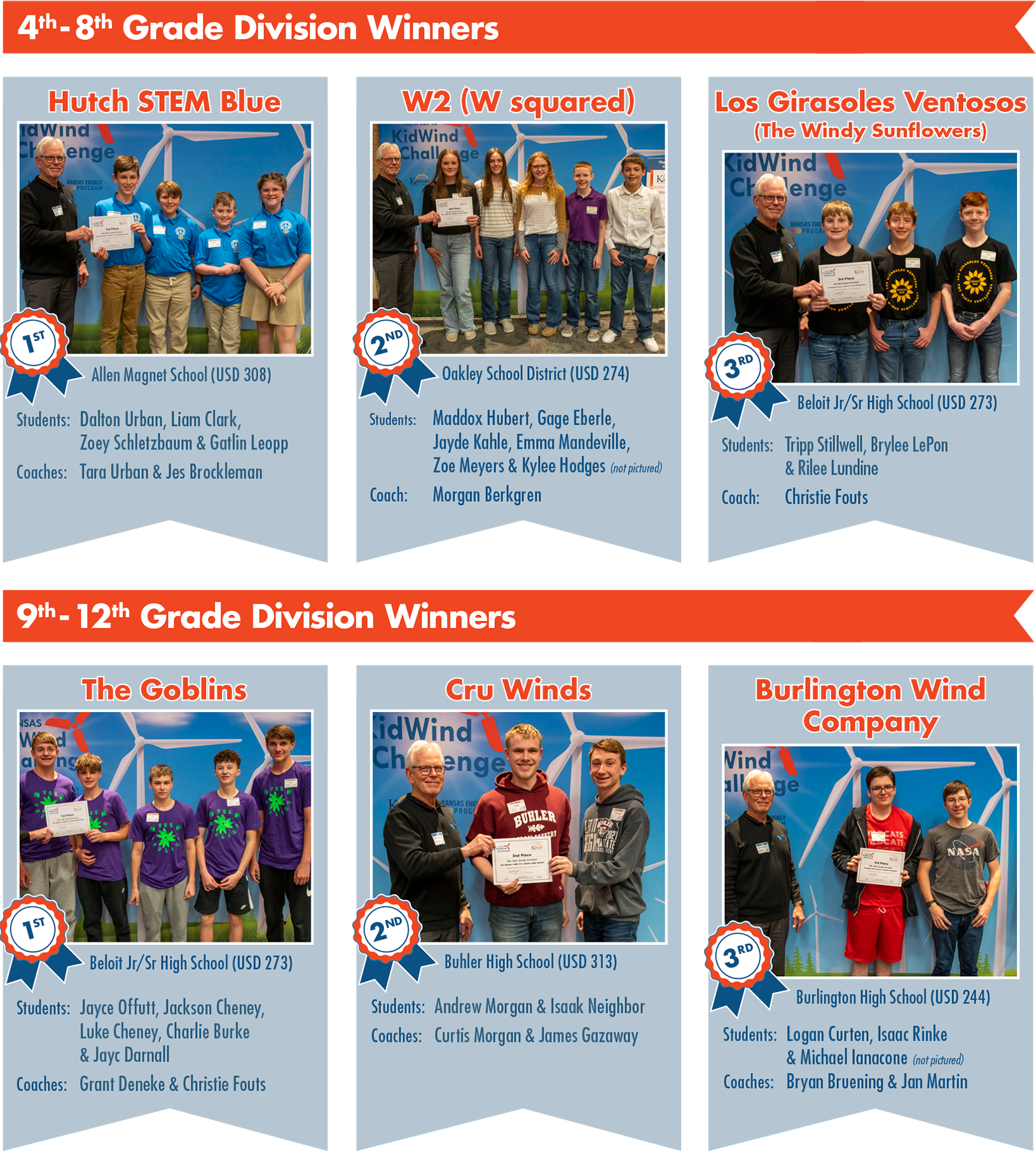 The winning teams will now advance to the National KidWind Challenge to be held May 14-17 in in Boulder, CO.


About KidWind
The KidWind Challenge is a fun way for students to explore the power of wind by building and testing wind turbines and then competing in a supportive environment. However, KidWind isn't just about wind energy. It's also about STEM and all the life skills that derive from the practical application of STEM in our lives – problem solving, teamwork, and scientific measurement, to name a few.
The KidWind Challenge takes place each spring and is open to students in grades 4-12. Teams comprised of 3-5 students and an adult coach build a turbine before attending a regional KidWind Challenge event where they compete against other teams. Teams are judged on a number of factors, including turbine speed, design, and knowledge of wind dynamics. The regional winners advance to the KidWind state competition where the top teams are selected to represent Kansas at the National KidWind Challenge. Teams can come from public schools, private schools, home schools, after-school clubs, etc. Check out the video below to learn more.
Costs and Equipment
The KidWind Challenge has no registration fee. The only costs are for supplies to build a turbine. A KidWind Generator from Vernier ($7.00) is required and can be purchased online or you can call the Kansas Energy Program (KEP). They will supply one per team.
To help your team prepare for competition, KEP will loan out wind tunnels upon request for teams to test and experiment with their turbines. Email This email address is being protected from spambots. You need JavaScript enabled to view it. to borrow a wind tunnel. Not sure how to setup or takedown the tunnel? Here are some videos to help.
Useful Links